fishy business welcome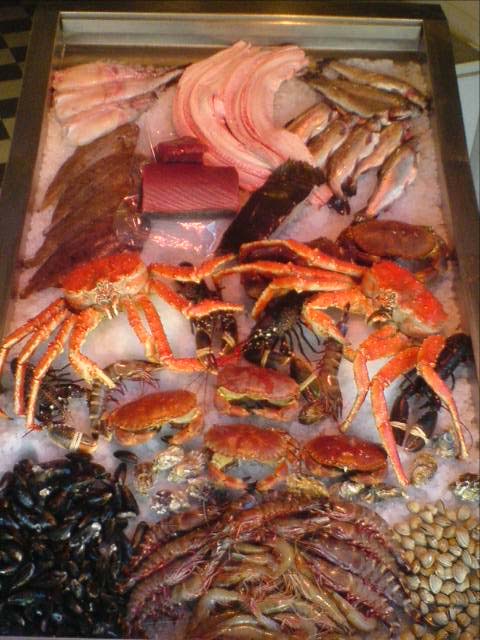 Welcome to the Fishy Business website. We are now in our 24th year with the business and much has changed in that time. When we took over in 1993, we thought the name 'Fishy Business' was a nice, catchy one so we kept it. As well as quickly building a great reputation locally for service to retail customers, we very quickly got into supplying hotels and catering outlets. This was influenced by my wife's family who have been in the fish trade for generations and who supply most of the major hotels in central London. It was a natural progression for us to keep up the tradition.

Over the years we have built up a trade with which we are extremely happy, our regular customers keep coming back to us and many travel some distance because they know that we will always go the extra mile to make them happy. If you want it, we will try and get it wherever humanly possible.I look forward to seeing you in the shop, or hearing from you online. We have tried to offer some useful information in our website, but we believe that nothing beats the personal touch, so if there is anything you need to know about fish, just pick up the phone.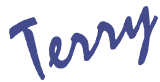 Development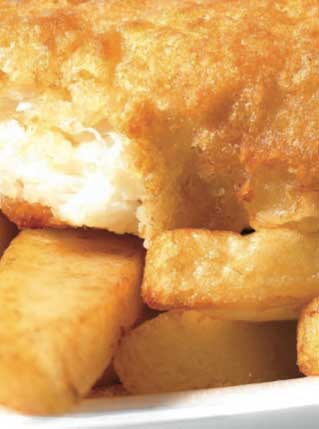 With great responses from local customers and a growing wholesale business with restaurants and hotels, there was not much time at our disposal. However, many customers had been asking advice on dieting and cholesterol control for a long time. There seemed to be an air of apprehension about cooking fish and many people were unsure of what was best.

Our next development is taking shape too. With the small number of professional fishmongers in these troubled times, the difficulty of getting to out of town superstores and the cost of transport, we have recognised a need for regular local deliveries of fresh fish.
In time this service may also be extended to our barbecue marinated fish. Our range of tuna, tiger prawn and monkfish kebabs all marinated in different fresh herbs as well as sardine and red snapper fillets have become incredibly popular over the years, so deliveries could well be in great demand.
Fish Delivery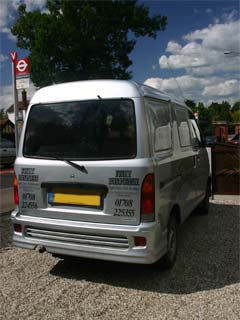 Throughout the borough of Havering, including Upminster, Hornchurch, Romford and Cranham, Fishy Business deliver delicious fresh fish every Wednesday. You can either call us with your order on the number shown on this page, or very soon order online from our wide range of filleted, whole, smoked, frozen or shellfish.Our delivery service is due to commence on November 19th 2008. Order before midday on Tuesday for delivery on Wednesday (10am - 1pm or 2 - 5pm), or order any other time for delivery on Saturdays (1-5pm)

Reduce your carbon footprint with Fishy Business.
By ordering your fish for delivery, you can cut down on one journey in your car, and because we deliver to dozens of households in a day, that means that dozens of return journeys are replaced with one efficient round trip journey. It may not make the fish taste any better, but every little helps when you think about cutting pollution.

Out of our delivery area? Wednesday not the best day for you? Ideas to improve our fresh fish delivery service are always welcome. Click here to make your suggestions.
Seasonal Fish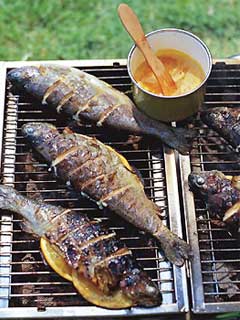 There are good seasons for many types of fish, for example, fresh cod roe is lovely in January-March, sprats are at their best between August and March while native lobsters are best in the summer. Canadian Lobster is also very good in its season. In shellfish, oysters are generally good all year round, although like mussels, many people associate their best season with months that have an 'r' in their name.

In the summer, nothing beats the taste and family spirit of cooking outdoors on a barbecue. Fish is a natural choice for barbecueing as it is healthy, tastes great and is usually very easy and quick to cook, so nobody has to wait too long while the delicious smells taunt their eager tastebuds.

At Fishy Business we specialise in supplying fish for the barbecue already steeped in our own top-secret marinade. All you have to do is pop it on the grill and enjoy.
When we started, some 23 years ago, we only used to sell tuna, swordfish, scallops etc. at weekends in the summertime. Now tastes have changed and we sell them 5 days a week 52 weeks a year.