Cooking with fish is a great culinary adventure. Fish is important food in just about every culture and every nation so there is a wealth of recipes to suit even the most adventurous palate.

Thanks to the popularity of cookery programmes and TV chefs, particularly Rick Stein, whose writings on seafood and seafood restaurants are famous worldwide, people everywhere are getting more pleasure out of cooking and eating fish.

As with all cookery, the end result is a reflection of the choice and quality of your ingredients, so for seafood, Fishy business will always endeavour to give you just that, great choice and top quality.
cooking with fish - traditional
Fried Whitebait. Ingreidents:
Vegetable oil for deep frying
100g flour
Sea salt
Good pinch cayenne pepper
400g Fresh whitebait
100ml milk
Lemon wedges, to serve
Tartare sauce, to serve
Method
1 Preheat about 8cm of oil to 160C-180C in a large heavy-based saucepan or deep fat fryer.
2 Mix the flour with a good pinch of salt and some cayenne pepper to taste. Dust the whitebait in the flour, shake off the excess then dip them in the milk, then back in the flour.
3 Fry the fish for 2-3 minutes in batches, until crisp. Drain on kitchen paper, season with salt and serve.
For hundreds more fish recipes, go to The Seafish Industry Authority website at www.seafish.org
Whitebait is one of my favourite starters, or just serve anytime as a snack. Accompanied by a nice glass of white or rose wine, nibbling these while watching the sun go down is one of life's great pleasures. Drizzle with lemon juice or dip in freshly made tartare sauce to taste.
cooking with fish - contemporary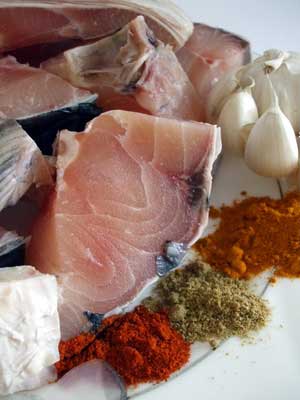 Tuna Cubes with Toasted Black and White Sesame Seeds

1 Tablespoon mixed black and white sesame seeds
3 ounces Ahi or Bluefin tuna (or other sushi-quality tuna steak)
2 Tablespoons organic soy sauce
3 Tablespoons sesame oil

Put the sesame seeds in a dry frying pan and toast over medium heat for about 30 seconds or until fragrant and the white seeds start to turn golden. Transfer to a small, shallow bowl and allow to cool completely. Cut the tuna into six 1/2-inch cubes. To serve, coat one side of each cube with the sesame seeds and place on a small plate with the coated side facing-up. Drizzle soy sauce and sesame oil over the cubes.

For hundreds more fish recipes, go to The Seafish Industry Authority website at www.seafish.org
Served as an hors d'ouvre or party snack, these tuna cubes look striking and the sesame seeds really help to bring out the flavour.
cooking with fish - continental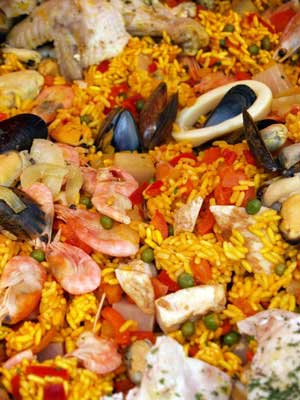 Seafood Paella. Ingredients:
500g live mussels
8 tbsp Olive oil
150g Chorizo, sliced
2 Onions, chopped
4 garlic cloves, finely chopped
8 Tomatoes, roughly chopped
1 red pepper, sliced
270g paella rice
1 tsp Paprika
1 tsp Turmeric
800ml chicken stock, hot
500g Monkfish, cut into 2cm cubes
6 tiger prawns, whole, raw and unshelled
2 Lemons, cut into wedges
1. Check if the mussels are alive - put them under cold running water. If they close they're good to eat, if they remain open, throw them away. Clean the live mussels, by scrubbing their shells and pulling off any beards.

2. Heat a large paella pan or heavy-bottomed frying pan, about 30cm in diameter, over a medium heat and add the olive oil. When hot, fry the chorizo until crisp. Add the onions, garlic, tomatoes and red pepper, cook for 15 minutes, stirring occasionally.

3. Stir the rice into the pan and season with salt and pepper. Add the paprika and turmeric, followed by the hot stock, and leave to simmer for 10 minutes without stirring.

4. Scatter the pieces of monkfish over the rice and push under the surface with the back of a spoon. Then lay the mussels and prawns over the top and simmer for a further 5 minutes. Cover and cook for a further 10 minutes or until the mussels have opened completely and the prawns are pink. Serve with lemon wedges.
We should really eat more paella in Britain, it can make a great outdoor event and a fascinating alternative to barbecueing. Pans come in varying sizes and it is really simple to make great-tasting food while still enjoying your own party.
cooking with fish - something spicy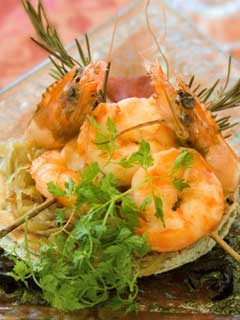 Thai King Prawns For the dressing:
juice of 2 limes
2 tbsp palm sugar, or raw brown sugar
1 fresh red chilli, deseeded and finely chopped
1 clove garlic
100ml coconut cream

For the saffron rice:
175g basmati rice
1 tsp ground turmeric
a few strands of saffron
2 tbsp desiccated coconut

Thai PrawnsFor the prawns:
6 large raw king prawns in their shells
2 cloves garlic, crushed
1 tbsp grated fresh root ginger
1 small fresh red chilli, deseeded and finely chopped
2?3 kaffir lime leaves
1 stalk lemon grass, finely chopped
2 tbsp sunflower oil
1 bunch fresh coriander, coarsely chopped
1 bunch fresh mint, coarsely chopped
Method
1. Make the dressing by mixing all the ingredients and leave to steep.

2. Prepare the saffron rice. Mix the dry rice with turmeric, saffron and coconut. If you want to steam the rice, add 250ml water to this mixture, then steam over boiling water for 20-25 minutes, stirring 2 or 3 times to ensure the saffron is mixed in. If preparing on the hob by the absorption method, put the mixture in a saucepan that has a tight-fitting lid, add 300ml boiling water and cook gently until all the water is absorbed and the rice is tender, about 15 minutes. Fork through once to fluff and separate grains, and keep warm.

3. Towards the end of the rice cooking time, peel the prawns, leaving their heads and tails intact. Put the garlic, ginger, chilli, lime leaves and lemon grass in a pan with the oil and heat. When the oil is hot, add the prawns, and saute very quickly, turning them once.

4. Scatter over the chopped coriander and mint. Remove with slotted spoon. Place on a bed of saffron rice and pour over a little dressing. Serve with remaining dressing in a bowl on the side.
This is just one example of what can be done with good seafood and a few simple spices. For literally hundreds of free recipe ideas, visit The Seafish Industry Authority website at www.seafish.org